Country Songs And Music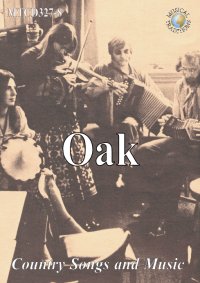 Country Songs and Music
Oak
Musical Traditions MTCD327-8 2003
2 CDs 32 tracks, 106 mins
A double CD set containing all the songs and tunes from the seminal 1971 LP Welcome to Our Fair plus virtually everything else they ever sang or played, in live recordings from clubs in Cheltenham, Benfleet - and their final gig in Walthamstow.
Oak were:
Tony Engle: voice, anglo concertina, fiddle, bones
Danny Stradling: voice, tambourine
Rod Stradling: voice, melodeons
Peta Webb: voice, fiddle
The Nutley Waltz / Your Faithful Sailor Boy
'Twas on a stormy New Year's Eve,
The snow lay on the ground,
A sailor boy stood on the quay,
His ship was outward bound;
His sweetheart standing by his side
Shed many a bitter tear,
And as he clasped her to his breast
He whispered in her ear:

"Farewell, farewell my own true love,
This parting brings me pain,
I'll be your own true guiding star
'Til I return again;
My thoughts will be of you, of you,
When the storm is raging high,
Farewell my love, remember me,
Your faithful sailor boy."

Amidst the gale, the ship set sail,
His lass was standing by,
She watched the vessel out of sight
The tears bedimmed her eye;
She prayed to Him in heaven above
To guide him on his way,
And the loving words he spoke to her
Re-echoed o'er the bay.

"Farewell, farewell my own true love ...

But sad to say, the ship returned
Without her sailor boy,
He died whilst on the voyage home,
The flag was half-mast high;
And when his comrades came on shore,
Told her that he was dead,
A letter he had wrote to her,
The last line sadly read:

"Farewell, farewell my own true love ...
The Nutley Waltz was one of Scan Tester's tunes, named for a village near his Sussex home. A really beautiful melody; we've never heard it anywhere else in the country.
Your Faithful Sailor Boy was written by G W Persley towards the end of the 19th century. Few songs have achieved such widespread popularity among country singers and their audiences. It turns up again and again in pub sing-songs throughout Britain, even through into the 1980s. Gavin Greig described it as being "Very popular in Aberdeenshire in the early years of this century" (and, sure enough, Daisy Chapman had it in her repertoire), and we have heard it in both Donegal and Cork in the last few years. Two versions have been found in the North Carolina mountains (there's a '20s hillbilly recording by Flora Noles, Sailor Boy's Farewell - Okeh 45037), while other sets have been reported from as far away as Australia and Tristan da Cunha. -245 Danny learned the song from Percy Webb in Suffolk, who swapped it with her for the full text of The Wild Colonial Boy, which we're sure he never managed to remember in performance!