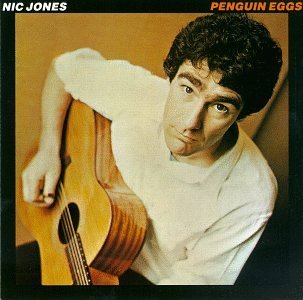 Topic Records 12TS411 1980
Penguin Eggs
Nic Jones
Topic : 12TS411 1980
Topic : TSCD411 1991
Nic Jones - vocals, guitar, fiddle, arranger
Bridget Danby - recorder and vocals
Tony Hall - melodeon
Dave Burland - vocals
Recorded at: Livingstone Studios
Produced by: Tony Engle
Engineers: Nic Kinsey, Billy Kinsley
Design: Tony Engle
This the magnum opus from Nick Jones. Penguin Eggs stands in a virtual class by itself -- a folk record built on playing of such virtuosity that anyone who enjoys guitar, of any type or style, should hear it; a body of traditional songs played with an immediacy and urgency that transcends any dry notions of scholarship; and a record that stands astride the opposing virtues of youth and antiquity, in its execution and source, respectively. Penguin Eggs is one of those rare records where not just every song, but each instrumental part is worth hearing. Jones' singing, some of the most expressive to emerge from the English folk revival. The vocals are attractive enough to make this record a keeper, but what makes this album truly special, and alluring to modern listeners, is the playing -- Jones' acoustic guitar work is so lyrical, elegant, and sinewy on Penguin Eggs, and gets such spirited (yet economical) support from Tony Hall and Bridget Danby, on melodeon and recorder, respectively, that it would be worth hearing just as an instrumental album, and could show a hardcore traditionalists a thing or two about virtuoso showmanship as well.
~ Bruce Eder, All Music Guide
This album represents Nic Jones' last full studio recording - he was injured in a car crash and he had to retire from active participation in the folk scene.