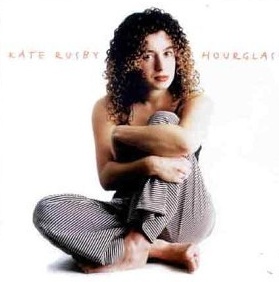 Pure Records PRCD02 1997
The album begins with an English ballad of dragons and knights, "Sir Eglamore," set to music composed by Kate Rusby. The tune is light and airy and sets a good pace for the music to follow.The traditional "As I Roved Out" is an Irish song about sundered lovers, and it slows things down a bit.
Another beautifully sung tale of star-crossed love is "Drowned Lovers," which (as you can surmise from the title) has an unhappy conclusion. "I am Stretched on Your Grave," is an ancient Irish poem, has received excellent treatments. Rusby's versionis initially sung a cappella except for Donald Hay's stark percussion. Otherl tracks, all of which match the high standards set by Rusby elsewhere on the album, include "Jolly Ploughboys," "Stananivy/Jack & Jill" (combining traditional elements with original melodies by Rusby and McCusker, and lyrics by Rusby), and the sway-inducing McCusker/John Miller song, "Radio Sweethearts." The album ends with the sea shanty "Bold Riley," a lovely song of parting which benefits from harmony vocals in the chorus by Battlefield Band then singer, Davy Steele. Alan Reid, also from the Battlefield Band, adds harmony vocals to another melancholy song about lovers parted, "Annan Waters."
Most of the tunes on on this incredible album are traditionals drawn from the rich musical history of the British Isles, Rusby, though, has added her own touches as well. Besides her own musical compositions for "Sir Eglamore" and "I am Stretched on Your Grave," she has contributed two originals, "A Rose in April" (a sad, sweet song on the theme, again, of parted lovers) and "Old Man Time" (an introspective song about the time which seems to slip away more swiftly as Rusby's music career demands more of her attention), and has collaborated on a few others.

1 Sir Eglamore
2 As I Roved Out
3 Jolly Ploughboys
5 Stananivy
6 A Rose in April
7 Radio Sweetheart
8 I am Stretched on your Grave
9 Old Man Time
10 Drowned Lovers
11 Bold Riley
 

Kate Rusby on guitar and piano

Ian Carr on guitar

Conrad Ivitsky on double bass.

John McCusker (who also produced the album) on fiddles

Michael McGoldrick on flute and whistles

Tony McManus on guitar

Eric Rigler on uillean pipes
 

related internet links

British folk singer and

guitarist. Amongst the

most acclaimed artists

to emerge from the

British Folk Revival,

his sensibility and approach

to the arrangement of

traditional folk songs has

been a major influence on

the folk scene since the

early 70's, and is composer

of Annan Waters